The Beverly Hills Art Show is always one of our favorite events, because we have the opportunity to get inspired by some of the community's most talented artists. This year we had a little artistic fun of our own and constructed a floral photo frame. With social media in mind, we decided to set up the frame in our Beer and Wine Gardens located at the Art Show. It was not only a fun project for us, but a total hit with our guests!
Check out how the Premiere Events team created this unique photo frame.
Step #1: Our Vision - Designing Our Frame
Our vision for this project began with brainstorming the color scheme, size, theme and functionality of the frame. We strove to design something that guests would want to pose with and post to their social media platforms - something fun, floral and festive! We ultimately decided on white for the body of the frame with purple text and floral accents to represent the Premiere Events colors!
Step #2: Finding Our Frame
In order to execute our vision, we went on the hunt for a frame that matched the dimensions, functionality and style for taking photos. We purchased an old wooden frame from a local thrift shop. Its shabby, "bare bones" exterior didn't scare us from jumping into the project right away!
Step #3: Painting Our Frame
Blank Canvas! Utilizing over 3 coats of acrylic paint for full coverage, we painted the wooden frame in an egg-shell white color.
Step #4: Fun, Floral Finishing Touches
We wanted our frame to have an artistic, "hand-made" look, so we carefully painted the text by hand and glued the purple and white silk flowers to the frame for the perfect photo finish!
The Final Product - Picture Perfect!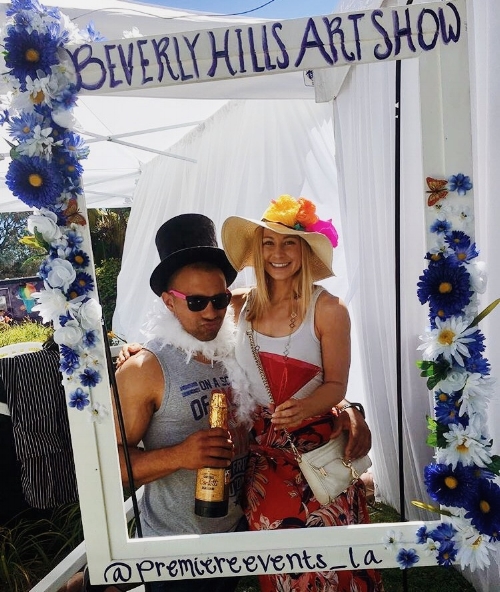 Posted by Caleigh Wells, Digital Marketing Intern - caleigh@premierela.com